Icare Tour Part 3
Enrolment page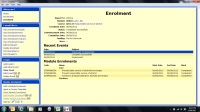 The Enrolment page displays both the Recent Events and the Module Enrolments.
Click on More... on under the Recent Events to display a full list of all events for the student. This is called the Enrolment Events page.
Double-clicking on a module or selecting a module and clicking on View Module Enrolment will take you to the Module Enrolment page. Click on the links to find out more about these pages.
Additional menu boxes that appear on the left of the Enrolment page are Events and Module Enrolments. These include options to Add, View, Edit or Delete Events and Module Enrolments.
Under Module Enrolments there is further option to Apply a Course Template. You can also adjust the order in which the modules are displayed, by changing the Sort by option under Module Enrolments.
Click here to view a larger image of the Enrolment page.